<! ------------------------------------------------------------ CONTENT ------------------------------------------------------------ >
Mostra Personale
Roma, up to May 20, 2018
At MAXXI
Museo nazionale delle arti del XXI secolo 20
miltos-manetas-the-internet-paintings
Painter, conceptual artist and theorist
Miltos Manetas is a Greek-born painter, conceptual artist and theorist whose work explores the representation and the aesthetics of the information society. Manetas is the Founder of NEEN (the first art movement of the 21st century), a pioneer of art-after-videogames (MACHINIMA) and an instigator of Post-Internet Art. In 2009 he initiated the INTERNET PAVILION for the Venice Biennial, in 2014, in collaboration with Rome's Swiss Institute, he introduced the concept of ÑEWPRESSIONISM. These days he is using DOCUMENTA 14 to develop the concept of MEDIOSUD. According to LEV MANOVICH, Manetas' art can be placed within a well-established tradition in modern painting (representing modern people in their particular modern settings). According to NICOLAS BOURRIAUD Manetas' work belongs to the domain of RELATIONAL AESTHETICS and POST-PRODUCTION
Today the 5017 artist in the world and falling..
»el tema de mi trabajo soy yo«
»The subject of my art is myself«
»il tema de mi lavoro soy yo«
»Como se mejora una pintura? Mirándola!«
»Como programar la vida? Pintándola.«
»Como se mejora un obra de arte visual? Mirándola!«
Internet Paintings at MAXXI
MAXXI, Rome, is showing the works of conceptual artist Miltos Manetas in an exhibition titled "Internet Paintings," on view at the museum through May 20, 2018. "Italian Painting," a work from 2000" part of the museum's permanent collection is also part of the show.
at the Internet Paintings
»Cercar a dipingere l´Internet, fare dal mondo dei schermi olio su tela, sarebbe di sicuro una cosa demente«
at the Internet Paintings
<! ------------------------------------------------------------ DOING ------------------------------------------------------------ >
working HARD on Social Media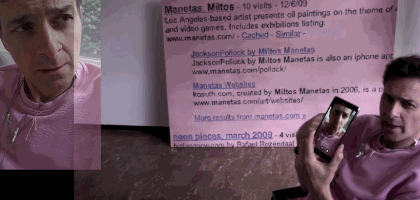 What is Art today and why?
Using just 15% of my full value
Taking advance today of the full value of our work its not a good idea. That's because Art has become such a profession that rips Time away from us... Read
»I"ve seen us locked in a triangle made by chopsticks... Three black chopsticks, USA-made by steel-Europe -made by wood- and China -a plastic one- are closing around us. They are hard and fast and we are rice. They represent the Total North«
Our lifestyle is now updated in real time. At the same time, all kinds of distances are canceled. Everywhere in the world, South and North become just one: NORTH. In the Western territories of the Northern World and mostly Europe, a new Middle South is born.
In the NORTH, the deal between society and government was always clear. During fascism, society is asked to obey, during democracy, society is asked to debate. In both cases - in the NORTH - art is the authorized voice of society. Therefore, during democracy, art HAS to debate.
read
Continuing ÑEWPRESSIONISM in America Latina
»ÑEWPRESSIONISM started in 2014 in Italy after an invitation of Rome's Swiss Institute«
¨TORTUGA¨ WITH NORA RENAUD IN MEXICO CITY
"In Mexico City, "Tortuga" by Miltos Manetas and Nora Renaud at Aldo Chaparro Studio
"Tortuga" at Aldo Chapparo Studio, Mexico City
Fac-simile of "Tortuga" at our house in Bogotá
"Tortuga" at Aldo Chapparo Studio, Mexico City
»"Tortuga" is a show I did with Nora Renaud in Mexico City«
"From Screen to Nature and Back Again..
EXHIBITING MY PAINTINGS IN PLACES
"From Screen to Nature and Back Again..
"From Screen to Nature and Back Again..
"From Screen to Nature and Back Again..
"From Screen to Nature and Back Again..
Dried Webpages AT THE INTERNET TALLER
"in Bogotá, at La Candelaria..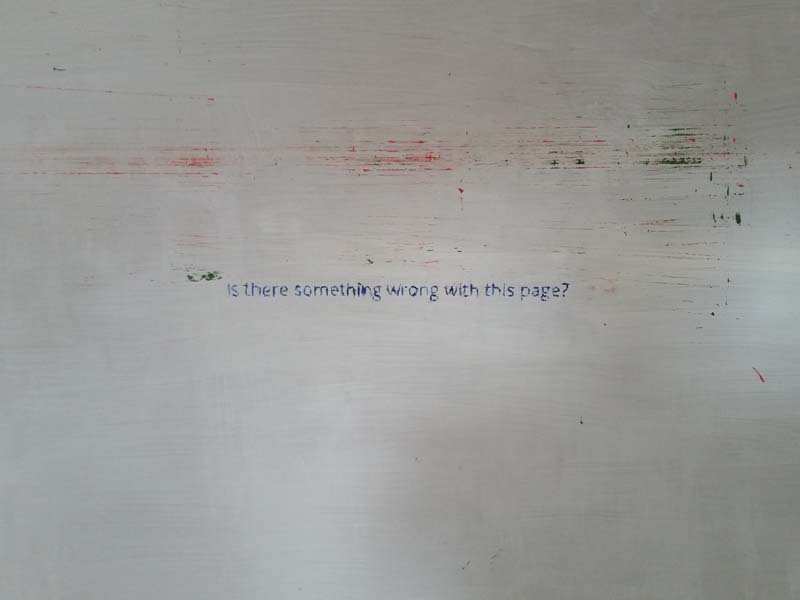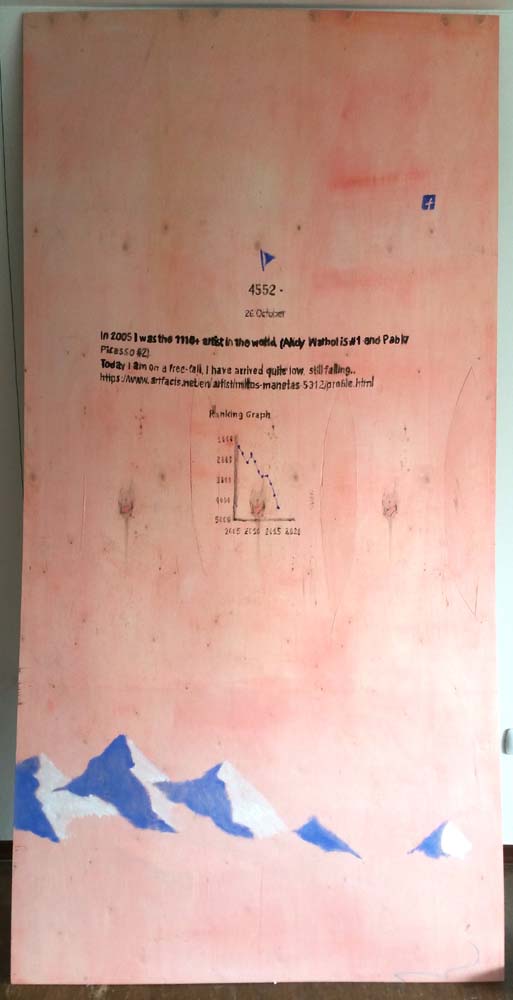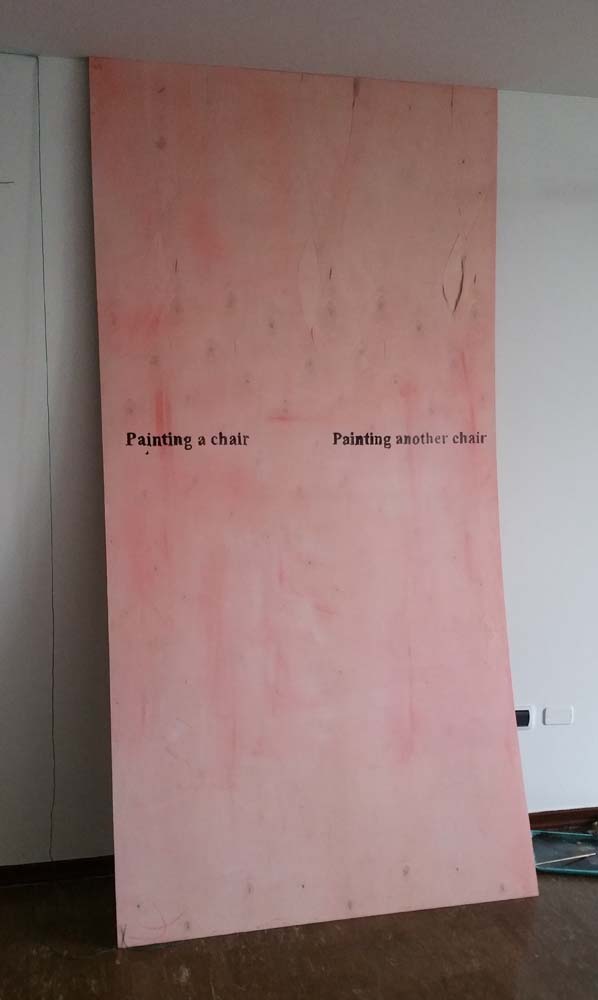 " In Spring 2015, invited to participate at the 9th Berlin Biennial the online magazine DIS was curating, I agreed meeting two guys from DIS in Bogotá but in the beginning of June, on the same day we had arrange to meet, I had to fly to Europe so our encounter never happened. We agreed to meet on Skype and discuss my participation but once I arrived in Greece I was catapulted into the Greek Summer of NO and I forgot everything else.. So the Berlin Biennial forgot me and I forgot it too until May 29th of 2016, just a few days before the opening of the exhibition that a friend told me he was going to Berlin. "I am part of this show"-I told him- "wait, I am not!".. Suddenly thinking I maybe missing something important, I looked online and noticed that the subject of this Biennial was exactly the issue that interests me the most: "our strange new life". So I decide to participate anyway... That same day, I sit on my computer and "sucked" everything from BB9's official website . Somehow magically learning how to modify it, I start re-creating the Berlin Biennial at Biennale.net by adding the content that -I believe- was missing.. I also start looking the Biennale online, at its […]" Instagram and Facebook and start remaking them at Instagram and Facebook . Following the tag #berlinbiennale , I discover that this exhibition was new Century's most interesting exhibition of its kind. But to become crystal-clear, my contribution was needed so I start "painting" it online, using my "Painting with Likes" technique that I invented on the spot. As I am convinced that "Shows-that-matter-should-never-end", I think I'll keep working on this show forever...